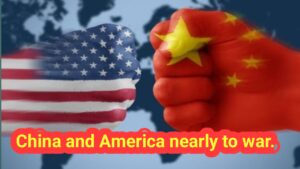 Highlights
China retaliates on US statement to protect Taiwan
China said will not tolerate conspiracy against integration
Increasing tension between China and America
US and China Conflict: There is a tussle between China and America on the Taiwan issue. On the one hand, America had warned China that if it attacked Taiwan, America would protect it. On the other hand, China said in a strong reaction on Monday that it will make sincere efforts for the peaceful reunification of Taiwan and will not tolerate any activity aimed at dividing the country. China's remarks are being seen as a response to US President Joe Biden's statement on Taiwan. Due to this, China and America have now come face to face openly.
what the US president said
US President Joe Biden has said that if China tries to attack self-governing Taiwan, the US military will protect it. China claims this self-governing island. Biden was asked on Sunday in an interview during a "60 Minutes" program aired on news channel CBS News that "if China attacks Taiwan, will American security forces, American men and women, protect it." In response, Biden said "yes". After the interview, the White House said there was no change in US policy, CBS News reported. Under this policy, the US believes that the issue of Taiwan should be resolved peacefully, but the policy does not specify whether US security forces can be sent in the event of a Chinese attack. Chinese Foreign Ministry spokeswoman Mao Ning, reacting to Biden's interview with CBS News, said on Monday that the US leader's remarks seriously violated the "one China" policy and three joint government circulars related to Taiwan. Is.
Will not let the purpose of dividing China succeed – Mao Ning
Chinese Foreign Ministry spokeswoman Mao Ning said Biden's remarks seriously violated the US commitment not to support Taiwan's independence and sent a wrong signal to forces seeking Taiwan's independence. The Chinese spokesman said, "China condemns it and strongly opposes it and we have started several representations in this regard." Mao said, "China is only one and Taiwan is part of it and the Republic of China ( The government of the PRC) is the only government representing the whole of China. "We will strive for the possibility of peaceful integration with utmost sincerity and efforts," Mao said. In the meantime, we will not tolerate any activity aimed at dividing China and we reserve all options to take the necessary measures.
Tension escalates after Nancy Pelosi's visit to Taiwan
Mao Ning said, "We urge the United States to fully understand the extremely important and highly sensitive nature of the Taiwan issue and to abide by the 'One China' principle and the Three Joint Governing Circulars, not supporting Taiwan's independence." Biden's statement comes at a time when Chinese President Xi Jinping's government has tried to threaten Taiwan by launching missiles into the sea and sending fighter jets to the nearby areas. . Several political figures, including Speaker of the US House of Representatives Nancy Pelosi, have traveled to Taiwan, due to which tensions have increased. Meanwhile, Taiwan's foreign ministry on Monday thanked Biden for "reaffirming the US government's firm commitment to the security of Taiwan".